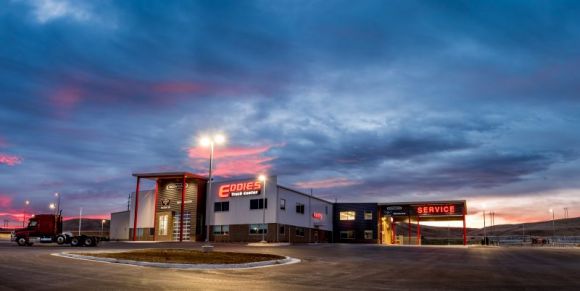 Location:
1022 N Turbine Dr, Rapid City, SD 57703
Service:
Construction Management, Design Build, General Contractor
Architect:
Fourfront Design
Size (square footage):
45,000 square feet
Completion date:
October 2017
---
Project Description:
The new Eddie's Truck Center is a 45,000 square foot building that sits on 10 acres, seven of which are developed. The new building replaces the old Eddie's Truck Center on Omaha and is more state of the art. The building features retail shopping, a service bay, an indoor showroom and sales floor, two-story office structure, parts warehouse, and car wash bays for washing trucks.
Details:
Crews installed geothermal ground source heat loops so the facility is heated and cooled by geothermal energy.
The building features an 18,000 square foot service shop.
Over 90,000 cubic yards of dirt had to be hauled to the site to prepare the land for the buildilng.
This building had to be insulated from the outside in, rather than inside out, like most projects.
Many of the floors in the building are polished concrete.